Today's weather, hot, sticky with a chance of lightening, thunder & rain… a great day for cooking  inside in an air conditioned daycare!
We headed to our garden way before rain arrived to pick some Kale & turn it into :
Bananas
Frozen blueberries
Chobani  plain yogurt
Orange juice
Kale leaves with veins removed
Put all in a blender and turn into a smoothie
Delicious… would we do it again YES!!
(Experiment with other fruits) 
PRETZELS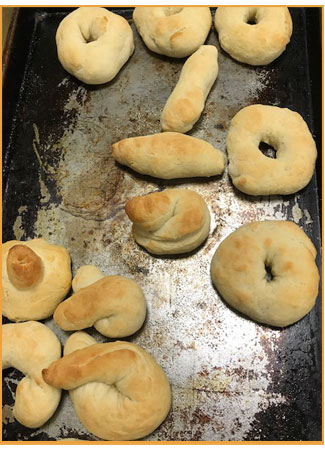 We have made pretzels before & "The Little Peeps" love it!
Easy to make. One recipe is enough for 4 kids to get a hunk of dough which  they pat, roll, twist or shape anyway they choose. 
Heat oven:  425 degrees
In a medium bowl dissolve 1 teaspoon yeast in 1/2 cup warm water
Add:  1 teaspoon honey and 1 teaspoon salt
Add: 1-1/3 cup flour
Knead & then divide equally & pass out to the kids. Give them a bit of "how to" & then leave them to create

Brush with a a beaten egg.

Bake 10 minutes
I read to the children each week, but today it just felt like the best thing to do on a Sweltering Summer's Day.